MLOVE Smart City Salon – SmartHome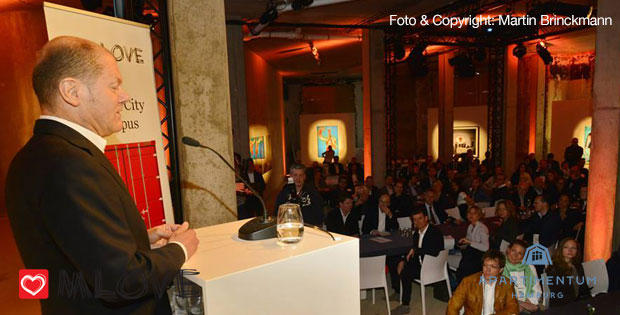 Apartimentum – living in the future
Author: Jacey Bingler, hamburg.de
Behind an original Wilhelminian style façade in Mittelweg 169 lies the future of living, the Apartimentum. What is currently still a construction site, a yet to be finished building with raw concrete walls, dusty floors and the faint smell of plaster, will quite soon provide space for 37 rental units. What distinguishes them from others, is that each one of them will be able to welcome inhabitants in a very personalised way. With the help of Cisco Systems, Lars Hinrichs wants to make use of the "Internet of things" (in short iot) and build intelligent homes which not only remember their residents' preferences after they leave the building, but which are able to automatically reproduce personalised settings every time they return.
MLOVE's Harald Neidhardt invites into Apartimentum
For one of the monthly Smart City Salon events MLOVE, Lars Hinrichs has opened his Apartimentum for the first time, inviting partners and press, investors and clients and Hamburg's First Mayor Olaf Scholz. Lars Hinrichs used the opportunity to reveal what makes the building so special and most of all: so smart. The door, to begin with, will recognize inhabitants by their smart phones. Lars Hinrichs asked German door manufacturer Hörmann to create an intelligent door specifically for his needs. Different codes for family members, friends, neighbours or service providers will enable permanent or limited access to the building. Visitors who show up announced can be granted access via internet if the resident wishes so, even if he isn't at home.
Energy saving and environmentally friendly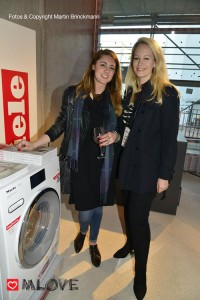 What makes the house one of the most energy saving and environmentally friendly buildings as of yet, is the intricate heating system. Ice heating by Viessmann uses crystallization energy to heat rooms and water, censors register if rooms are empty and shut down the heating as soon as the residents leave their appartment. As soon as they return, the heating systems go back on again before the residents have even stepped onto the yard, assuring the desired room temperature is reached before whoever returns opens the door. Even waking systems and morning routine are optimized. The residents' smartphones scan their users' calendar and traffic situation, providing them with alternative routes to avoid heavy traffic, waking them in time for their first appointment with the use of biological light. Before the users leave the bed, the bathroom and showering water are already heated.
Mobility and logistics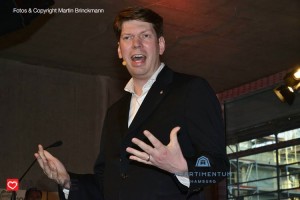 Lars Hinrichs is a huge fan of electronic cars, especially Teslas. He has decided to equip 16 of the 32 parking spaces in the garage in front of the Apartimentum with Mennekes e-docking stations. As this garage will be Germany's largest e-charging station, he has decided to open it to the public, so other drivers will be encouraged to charge their e-cars at the Apartimentum.
The Apartimentum will have no regular letter boxes. In cooperation with the German parcel delivery service DHL Hinrichs has designed an elegant interface between deliverers and the residents of the Apartimentum. Deliverers drop off letters and parcels in an electronically driven packing station in front the building, residents open the chip equipped safe boxes with the use of their smartphone. If their orders were sent in the wrong size or need to be returned for other reasons, they just leave it in the box where the parcel is picked up again by DHL.
Flats cater to expats needs
It is not the Hamburgers that Lars Hinrichs is building his house for. He is targeting expats, who often find it hard to settle into boardinghouses or get warm with "one size fits all" flats provided by the firms they were sent to Hamburg by. Expats usually stay between six months and four years – a period of time in which Lars Hinrichs wants to make them feel most comfortable by providing homes that are easily personalised.
Whoever moves in doesn't face any hassle going through contracts with different energy, water or telecommunication providers. Lars Hinrichs will meet them with a couple of passwords and the promise of flatrate living in Germany's most intelligent home.
Visualizing the future of living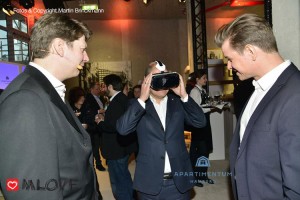 All of these technical innovations and the living comfort, be it the ceilings of 3.70 meters height or the intelligently dimmed light are hard to imagine if all one can see are concrete walls behind the Wilhelminian style façades. This is where data visualizer Vade comes in. "Especially rather expensive real estates and flats are sold or contracted for rent at a point where it is hard to show clients what they will be paying for. We use Samsung oculus virtual reality glasses to illustrate what flats and the whole building will look like. Hardly anyone can read blue prints, so we use animations to make visible what lies in the near future."
The future of living
Experts predict that more than 50 billion electronic devices will be connected to the internet in 2025. When asked what he pictures the future of living to be like, Lars Hinrichs replies: "I expect more than fridges which automatically order food as soon as it is used up. I want to be able to enter a home, be it in Singapore, New York or Hamburg, and be recognized by it. I want the four walls I live in to react and cater to my personal preferences. I want to rent out intelligent living comfort instead of square metres."
One of the inventors of Smart Living, met at Apartimentum
Martin Jaehnert would like to see no waste and more fun on the streets and so he is working for making our cities a better place to live – with binee, a concept which manages the households waste in SmartHomes.
Comments