Music streaming service for smartphones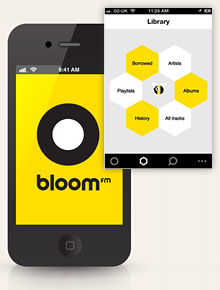 The London-based start-up Bloom.fm has launched a music streaming service that specialises in smartphones. The service aims to offer both music on demand and automated radio.
Users of the iOS app are greeted by a navigation wheel inspired by the original iPod click wheel, which they use to select the music genres they listen to the most.
Selecting a genre opens up further sub-genres, allowing users to select a mixture. 200 radio stations are already available on Bloom.fm.
Source: bloom.fm
Initiator: DDN Ltd., UK
Check out the full version of MLOVE Mobile Trend Report here!
Comments